truck box

Author: Dave
Date: 11.07.10 - 8:38am


One thing about trucks is that you dont have a secure out of storage area like a cars trunk. If you are traveling with a computer, gps or camera, this can present a problem.

I needed a secure lockable storage compartment in my truck for just this occasion. I didnt really find anything that fit with what i wanted so here is what I came up.

I started with a Delta 8500 Wheel well box that is designed to go in the bed of the truck over the wheel well. For the price, i was hoping it would be a fairly rugged box, but it was one of the few ones made of steel and which gave full dimensions so I could order it online.

As it turned out, the box was a pretty light duty sheet metal with only one flimsy lock in the center. How this is supposed to keep people out I have no idea. Still, being made of steel I could weld to it..and weld to it I did.

I ended up framing the lid edges with 1/2in angle iron all teh way around including the hinge. I then installed 3 of the cabnit drawer type locks in the lid, and welded on two flanges for padlocks.

I also welded a frame onto the bottom of it, that lines up to the factory rear seat mounts in my extended cab pickup. To make use of the cut out space orginally designed to go over the wheel well, I welded in a couple shelves to hold various odds and ends.

On the driver side, I also welded in a piece of 2in angle iron on a pivot that rotates down to cover over the mounting screws to prevent removal. This cover is then padlocked to the lower mounting frame.

Finally i used spray adhesive and black automotive carpeting to cover the box inside and out to match the cab and give it some sound deadening.

The deep side of the compartment is perfect for a laptop and case, the shallow side is perfect for the gps/camera/whatever. The shallow side is necessary so you dont have to go fishing in teh deep end for stuff and can just reach back and grab it while seated.

One other thing..if I need the added security of the padlocks on the top, I also keep an extra piece of the carpeting rolled up under the box with magnets glued into the seam. This allows me to place a strip over the locks so as not to draw attention to them when in use. (Nothing says steal me more than obvious overkill security)

It was more work than i bargained for, but I am pleased with the way it turned out.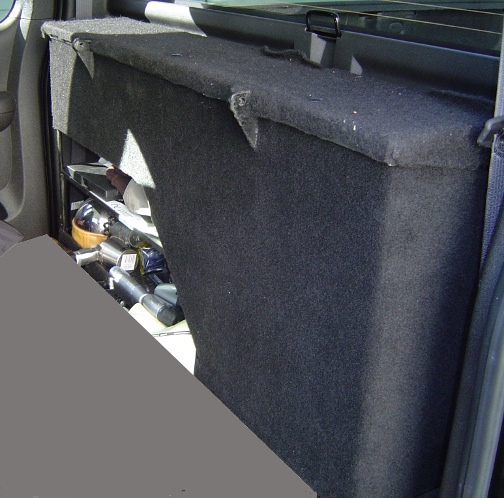 ---
Comments: (0)
About Me
More Blogs
Main Site
Posts: (All)