Uberscoot 1000w Review

Author: Dave
Date: 08.02.16 - 5:46am


So this summer I have a bit of a walking commute and was looking for something to ride to take the weight off a tweaked ankle.

Criteria:
lite enough to put in truck of car with no car carrier needed.
powerful enough to deal with slight inclines
stable enough to be safe, good breaking, speed etc.
decent price, quality, durability etc.
must be electric (gas machines to noisy and prohibited)
I checked out a bunch of different models of electronic transportation. The razor e300 looked like a possibility, but being 210lbs I didnt want to risk the lack of power.

I settled on the uberscoot 1000w.

It is foldable and looks like it should fit in my trunk. Reviews said that the 1000w motor and 36v system should be ok for my weight on inclines.

Testing it out the other day, it moves pretty good on flats. I am impressed with its speed, but it struggles pretty bad on even slight inclines.

I was going to give it a shot for the commute, but when i went to take the seat off and fold it up, the seat was HORRIBLY stuck in its socket. The seat mounts to the machine via a taper fit. I noticed this putting it together, but figured they had it all worked it out for removal. NOPE.

It wedges in there horribly. I had to take off the plastic shield around the post, drill a hole right through it and use a pry bar under the screwdriver while tapping on the post with a hammer. I also had to cut a wedge to hold the lock out.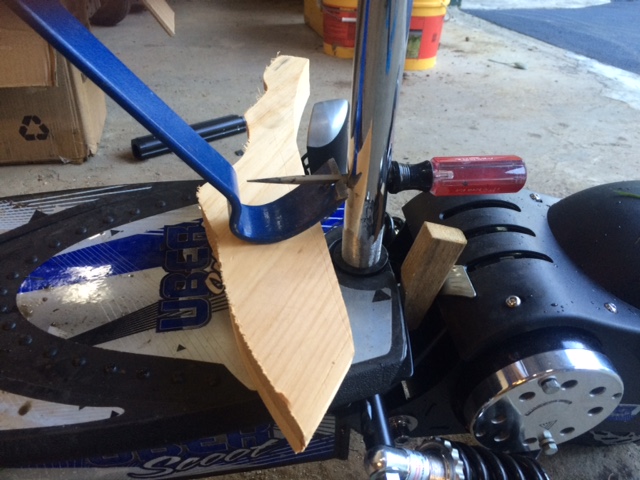 Thank goodness I wasnt out somewhere and was home with all my tools!

After that, I ground down the taper to try to rough it up so it wouldnt seat so tight. Its better now, but I still need at least the screwdriver as a handle to twist and pull to get it out.

Ok, back in business and we can fold it again now. So lets try to load it in the trunk. At 80lbs its pretty heavy to load into a trunk. I am not a small guy. I could take the 30lbs of battery out pretty quickly, but its a bit annoying. Also, it still doesnt fit in my trunk. I would have to unmount the handlebars everytime I take it anywhere.

So loading at this point will consist of:
fight with seat to remove it, bring wedge and screwdriver
remove 30lb battery pack
fold up and lift 50lb frame into trunk
use allen key to loosen and remove handlebars (actually I can JUST fit it in w/handlebars if I flip down back seat)
Depending on the length of your commute this could be doable, especially with a tweaked ankle, but there is still 3 problems.
this doesnt have much power on even slight inclines for a 210lb rider
the build quality is pretty light duty
its only using lead acid batteries with limited life/power
at $540 delivered its not cheap
Its a hard call. For me I dont think these metrics quite pan out. For $730 I can have a high quality segway mini pro with 1600w power and probably better incline ability (albeit lower speed)

For the same price, I could have a 300w electric bicycle with lithium battery and 7 speed gear drive. (of course I would also have to buy a $120 car rack)

Personal transport electric vehicles are almost here. I mean they are..but its really first gen stuff. This feels more like a big toy than a personal transport solution, but really its almost there.

I havent decided if I will return the uberscoot yet, but more than likely it will have to go back for something with a better cost to value ratio.

Pros:
it is pretty fast on flats, about as fast I feel safe going
it is surprisingly stable even at very low speeds
the braking system feels safe and stops well, plus its dual front and rear
the folding mechanism feels very solid, i trust it.
Q&A:
Can you ride it without seat? yes its ok, platform a bit small and at 6'2 I either to lean over the bars or better bend the knees down to a good level. Neither is great, seat is better.
Is the seat comfortable? yes feels very natural to sit at it. feels stable with lots of control and easy to put your feet down to brace if you get wobbly. The seat is a good addition.
Honestly I think scooters like this could be a good solution for mid distance urban commuters in the future. Electric bike is probably still the real way to go however.
---
Comments: (0)
About Me
More Blogs
Main Site
Posts: (All)