This project is an internet-enabled humidor built from readily available, easily assembled parts. You can see a
live feed here
of it in action.
This project has been designed to be able to be completed within an afternoon by someone with basic computer skills, a soldering iron, and the patience to learn a few new tricks.
If you are unsure about your electronic skills I am sure that you could find a local 15-year-old who is into computers and would be happy to complete the project for a pizza. I have even seen listings on craigs list for people who would help out with this type of work for a small fee.
There are currently two versions available. An LCD build for $100, or a touch screen version for $160. The touchscreen version is a easier to build but more expensive. Both upload the statistics to the web where you can view reports.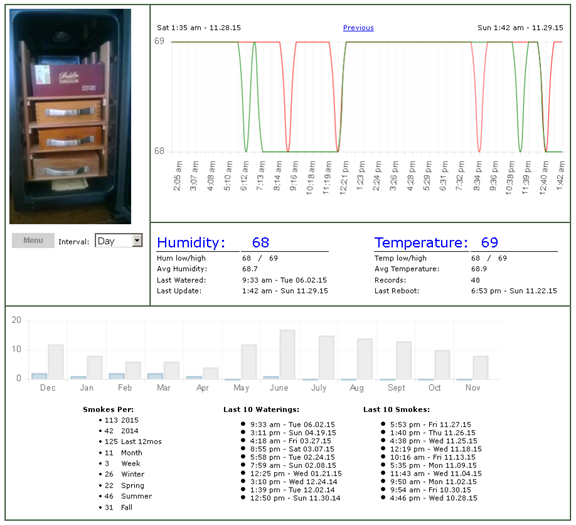 The humidor uses a small computer called and Arduino to upload the temperature and humidity to a Web server every 30 minutes.
If the Humidor requires maintenance the Web server will send the user an email alert to help them protect their investment. The web server records the data to a database, and can present the user with the graphs of its fluctuations over time.
You can also choose to record events such as when the humidor is watered or when you have a smoke. These will be displayed on the website.
A Windows phone application is also available that puts this information at your fingertips no matter where you are in the world.
I hope you enjoy using this project as much as I have had in creating it. I have wanted this for a long time and thought that I would share it with my other brothers of the leaf.
-Dave