Chm files are used extensively in the windows world for product documentation and help files. They are a way that you can encapsulate a whole host of files in one self contained browsable database.

Microsoft provides a free utility for creating and compiling Chm files, however its interface is bulky and hard to use. Even after reading through its documentation it takes some time to be able to use it effectively. Even then, you are stuck adding files to it one by one and manually organizing their hierarchical layout.

Chm Spider alleviates all of this hassle and generates the Chm file layout automatically for you based on the physical directory structure of your Files !

You can literally create a several hundred page Chm file in a fraction of a second, a task that would formally take on the order of a full day to complete.

File layout is directly represented in a treeview allowing you to easily delete files or folders as needed. You can custom configure a list of acceptable extensions to include all of the file types you need for your project. This allows you to include links to file types not natively recognized by the HTML Help WorkShop such as txt, pdf, doc and more.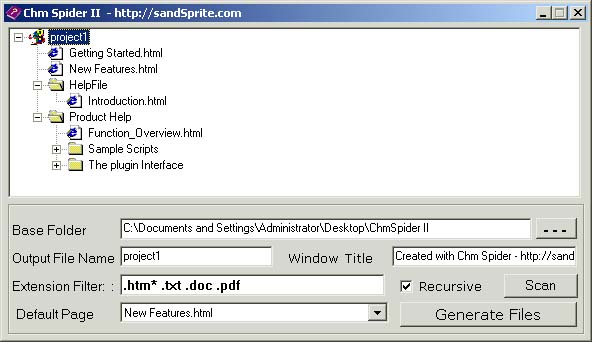 Even if you have never made a Chm file before, you will have no problem creating professional results quickly and easily.

Steps:
Create all of the html files and graphics for your project. Laying out the directory structure exactly as you want it to show up in the chm file.


Open up Chm Spider and either drag and drop the base project folder into its top textbox, or use the browse for folder button next to it to load it in.


Edit the 4-5 options available to custom configure the Chm File.


Hit the "Generate Files" button, and all of the configuration scripts needed for the chm file will be automatically generated and written to the project home directory. After the files are generated, Chm Spider will automatically open the project in the Microsoft Chm File Compiler for you !


In the Chm compiler, just click the File -> Compile menu options, and it will automatically generate the Chm File for you.

It really cant get any easier than this ! I have used this program extensively for my own projects and documentation needs. I created this, because I really needed it. And everyone I have shown it...loves it too. If you have to make alot of Chm Files, you basically need this program. I personally have used this program to layout projects of over 2,000 pages, with many complex nested directory structures, this is industrial grade performance.

The trial edition installs with a 10 use limit. If you need to use it more than 10 times, you can easily purchase a license right online for only $14.95.

Product purchase page

Note: You will also need to download and install the Microsoft Html Help Workshop which contains the actual compiler used to for creating the html help files. It is freely available for download from here




Download Now